改善非華語學生的中文學與教
服務簡介
為了促進非華語學生與華語同儕溝通及適應學校生活,並享有同等學習中文的機會,建構共融校園,本校會按學生個別能力提供以下服務:
因應學生個別差異和需要,運用有效工具,輔助 學生於課堂學習。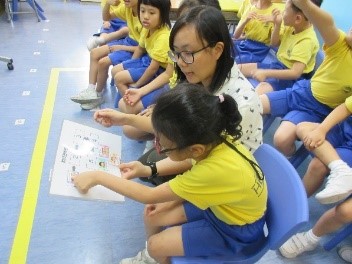 於課節進行中文技巧訓練,包括:學習中文的基礎知識、 發音、朗讀、和閱讀等,提升學生聽説讀寫等語文能力。
於小息時段,讓華語學生與非華語學生一同閱讀中文繪本,提升本校華語及非華語學生閱讀的興趣。]
透過小組活動,讓非華語學生學習粵語發音、表達及 情境對話、溝通解難的技巧。
課後為非華語學生進行功課輔導及基本詞彙練習, 提升學生學習中文的效能。
課程
本校將為非華語學生設計校本課程,讓他們小步子地從聽、說、讀、寫四個範疇學習中文。課程的學習重點參考「中國語文課程第二語言學習調適架構」(非華語智障學生適用),按非華語學生需要於語文科總課程篩選或增刪。課程以單元編寫,包括《小步子學中文》及繪本教學,而單元組織則按校本課程及學生發展和成長需要,以生活化主題,圍繞家居生活、社區生活、來去自如、購物消費、職業準備五個領域設計。
教學
非華語學生的中文教學著重以情境教學活動引起學習動機,鼓勵學生多説多讀,以多感官學習,為非華語學生設計個別學習計劃,跟進其進度及調適其學習目標。
透過多感官教具協助學生從視覺、聽覺、觸覺學習,讓學生對中文的概念更清晰及具體,讓學習變得更有趣。
本校鼓勵非華語學生參與制服團體,如:幼童軍、男、女童軍,亦有課後活動班,如舞獅、舞蹈等。另外,非華語學生亦會擔任晨輝大使,安排學生向訪校來賓介紹本校的設施。在課堂以外提供接觸華語同儕的機會,如:大哥哥大姐姐計劃、聯校共融活動等,並定時舉辦非華語學生校內活動,如:午間小聚,讓非華語學生之間建立友誼,互相學習和支持。
Enhanced Chinese Learning and Teaching for Non-Chinese Speaking Students
Service introduction In order to help non-Chinese speaking (NCS) students communicate with their Chinese-speaking peers and adapt to school life, our school offers equal opportunities in learning Chinese and build an inclusive campus environment. Our school provides students with the ability to participate in the following services:
According to the individual differences and needs of students, teachers use effective tools to assist students learning in class.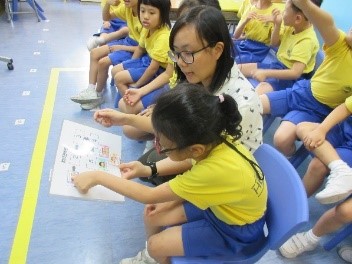 2. Individual or small group Chinese lesson Chinese skills training will be conducted during the class, including: learning the basic knowledge of Chinese, pronunciation, reading aloud, etc., to improve students' language skills such as listening, speaking, reading, and writing.
During the recess break, Chinese-speaking students and non-Chinese-speaking students can read Chinese picture books together of which aim to enhance the reading interest of Chinese and non-Chinese speaking students in our school.
4."Learning Cantonese with fun" after-school class
Through group activities, non-Chinese speaking students can learn Cantonese pronunciation, expression and situational dialogue, so as to enhance their communication and problem-solving skills.
5. After-school remedial class
In after-school remedial class, teachers provide homework guidance and basic vocabulary exercises for non-Chinese speaking students in order to improve students' effectiveness in learning Chinese.
Our school designs a school-based curriculum for non-Chinese speaking students, allowing them to learn Chinese from the four skills: listening, speaking, reading and writing in small steps, The learning focus of the course refers to the "Chinese Language Curriculum Second Language Learning Adjustment Framework" (for non-Chinese speaking students with intellectual disabilities), which can be partially selected or replaced by other suitable curriculum according to the needs of non-Chinese speaking students. The school-based curriculum, including "Learning Chinese in a Little Step" and picture book teaching, are written in units. The unit organization covers student development and growth needs. With a series of topics related to daily lives, the unit designs focus on five areas: home life, community life, transportation, shopping and career preparation.
Contextual teaching activities are designed to stimulate learning motivation, encourage non-Chinese speaking students to speak, to read and to learn with multiple senses. Our school designs individual learning plans for non-Chinese speaking students. Teachers follow up students' learning progress and adjust the learning goals.
Multi-sensory teaching aids help students learn from the senses of vision, hearing, and touch. Students have a clearer and more specific concept of learning Chinese, making learning more interesting.
Other learning Experience (OLE)
Our school encourages non-Chinese speaking students to participate in uniform groups, such as Cub Scouts, Boy and Girl Scouts. There are also after-school activities such as lion dance and drum dance. In addition, selected non-Chinese speaking students will also serve as HCWMC ambassadors who introduce the facilities of the school to visiting guests. The non-Chinese speaking students will also earn opportunities for contact with Chinese-speaking peers outside of the classroom, for example the Big Brother Big Sister Program, Joint-School Inclusive Activities, etc. Besides, in-school activities will be regularly organized, such as lunchtime gatherings, so that non-Chinese speaking students can build friendship with peers to facilitate their support in learning.